Change in your pocket: Will Coin replace credit cards?
By Justin Boyle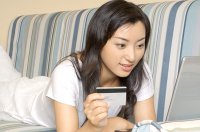 Late in 2013, the gadget-oriented segment of the personal finance community started rumbling about a new toy that could bring novelty and an extra measure of convenience to the world of credit cards. It's called Coin, and buzz abounds.
But the ever-present question of start-up tech remains: Will Coin deliver on the jazzed-up promises of its hype machine? Does the problem of carrying too many credit cards even need another high-tech solution? Let's take a look at the details.
How Coin works
Coin is the size and shape of a standard credit card, but there's more going on than meets the eye. Using a special smartphone attachment, you can swipe and store your credit cards, debit cards, membership cards, retail loyalty cards, gift cards, you name it. If it uses a standard magnetic strip system to identify itself, Coin can use it.
The Coin card holds just eight different cards at a time, but the phone app can reportedly store as many numbers and expiration dates as you throw at it. Using a toggle switch built into the body of the card, users can cycle through their available payment and loyalty information and choose how they want Coin to behave during a given transaction. When you make changes to the list of cards on your smartphone, the app communicates them to the card via Bluetooth.
Security and ease of use
Security is always a concern when it comes to financial tech, and Coin is no different. Coin's data security is handled by 128- or 256-bit encryption on all communications between the app, the card and the company's servers, while pop-up smartphone alerts let users know if their card has been left behind.
As a measure of protection against physical theft, Coin comes with a sort of built-in kill switch. If a user's card is taken out of range of the device to which it's linked, the card makes itself useless until the user retrieves it. This does come with a potential inconvenience as well: If your phone goes missing and Coin is all you've got in your pocket, you might find yourself in a tougher spot than you would otherwise.
Another potential drawback is the lack of Coin support for chip-and-pin credit cards, which are already rooted deeply in Asian and European retail systems and are making their way to the U.S. Still, the magnetic strip remains the dominant credit card security method stateside, and Coin's engineers expect to add chip-and-pin support before too long.
Coin vs. mobile wallets
If you keep your ears even somewhat close to the ground at the crossroads of start-up tech and personal finance, you're probably asking yourself if Coin is anything more than a mobile wallet app with some novel pieces of peripheral hardware.
Unless there's something the company's not telling us, that's exactly what it is. It's possible that there are some tangible advantages to a mobile wallet that doesn't require you wave your phone in the air at the checkout counter, but Coin's primary standout feature seems to lie squarely in the realm of novelty.
Is that such a bad thing though? Consumers are pretty well accustomed to the physical act of swiping a card to pay on credit, and this sort of hardware-integrated solution might serve as a gateway gadget that opens people up to the general idea of software wallets.
Better than the competition?
Google seems to be betting on users' affection for swiping cards, as well -- Google Wallet debuted a physical card in the final few days of 2013, although it works like a prepaid debit card rather than spoofing the info of one of your physical cards. On top of that, a similar wallet-in-a-card called the Protean Echo generated buzz in 2012 but remains unavailable at the time of this writing.
For now, only the company's founders and a few select testers know for sure how Coin is faring in the wild. Pre-orders far outpaced expectation, however, so early adopters nationwide can be expected to weigh in once Coin hits the streets this summer. Until then, we'll just have to let the hype machine do the talking.
Justin Boyle is a writer and journalist in Texas.