Published 4/28/11  (Modified 8/29/11)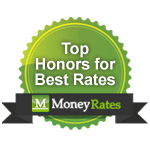 By Jim Sloan
Let's face it: Interest rates for savings accounts are dismally low these days. You have to work pretty hard to find a bank paying more than 1 percent, and even then you don't know how long the best online savings account or high interest savings account will remain at the top.
MoneyRates.com has taken the legwork out of finding the best high interest savings for you with a recent analysis of approximately 100 banks to determine which ones provide the most consistently high yield savings and money market accounts.
Top 10 banks for savings accounts

The website does this quarterly by measuring the average rates offered by banks over each day of the three-month period to calculate the best high-yield savings account offered over the long haul. You can use this information to put your money in a high interest savings account that has a history of being consistently high.
For instance, even though the Federal Deposit Insurance Corporation recently reported that interest rates nationally averaged an abysmal 0.15 percent, the MoneyRates.com analysis found seven banks offering high interest savings above 1.00 percent in the first quarter of 2011. That list was headed by American Express Bank at 1.269 percent and was followed by Discover Bank at 1.224 percent and Capital One Bank at 1.221 percent.
Another measure of the consistency of this group of banks was the fact that...
Read the full article »