Published 11/14/14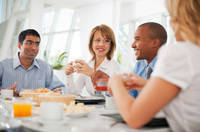 By Justin Boyle
If you're anything like me, your love of good food and residential elbow room tends to find itself at odds with your need for reasonably priced goods and services. Fortunately for people like us, though, there exist U.S. cities where it's still possible to enjoy a lively and well-fed existence in a comfortable living space while keeping your savings account intact.
Here are four of the best places to do it in 2014, in alphabetical order.
1. Albuquerque, New Mexico
The attraction here might not be immediately obvious, particularly after the city's starring turn as a den of vice and viciousness in "Breaking Bad," but you'll be cheered to know that the real Albuquerque is much friendlier than it seems on TV. This desert metropolis is home to some world-class spas and restaurants (and casino resorts, if that's how you party), and it's growing in prominence as a destination for fine food and libations.
Writers for both Women's Health magazine and the venerated Zagat Survey have listed Albuquerque among their top food cities for 2014. Such cuisine and recreation might threaten dry up your disposable income in most places, but New Mexico ranks among the 10 most affordable states in the U.S. in the mid-2014 cost-of-living index (COLI) released by the Council for Community & Economic Research.
2. Boise, Idaho
The Idaho capital could be a real sleeper hit for lovers of food and frugality, particularly those whose physical constitution can handle the freezing winter temperatures.
Read the full article »