Published 9/13/11  (Modified 9/19/11)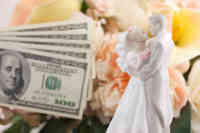 By Tracy Clark
So, you're planning your wedding and are dazzled by the extravagant weddings of celebrities like Kim Kardashian but you don't have $10M dollars laying around in your checking account? The bubbly alone for Ashley Judd's big day cost as much as the average American wedding!
In an era when the rich and famous drop $80,500 on party favors (because yes, every guest at Nicole Kidman and Keith Urban's wedding deserved a $350 Tiffany clock, daaahling) it's easy to dream big. No worries though, you can make your wedding dreams come true without going broke.
Save on the wedding, plan for the future
Planning smart for a wedding is no different than looking for the best online savings account rates, the best money market accounts, or cd rates. If you do your homework, shop and compare, you will find that there are fantastic deals to be had.
Ask yourselves what you could do with the money by not overspending on your wedding. Your wedding is one day, one goal, in a lifetime of goals together. Your future may include buying a home, investments, children, and retirement.
Start your life together knowing that you are working toward those goals and not against them. You can have an elegant, stylish, and beautiful wedding without paying for that day for years to come. If you'd rather not mortgage your future on your wedding, check out the following tips for saving money on your big day.
Read the full article »