Published 1/31/15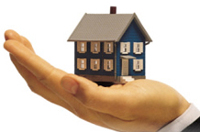 By Peter Andrew
Regular readers may be shocked by my grubby little secret: I can waste hours online reading about, looking at floor plans and pictures of, and fantasizing over other people's very expensive homes.
What do I get out of this? Some of my motivations may be shameful, and driven by insecurities about my own modest accomplishments. It's fun to see how the ultra-rich can expend vast sums of money on spectacularly garish -- almost Trump-esque -- monuments to vulgarity, ostentation and bad taste. Though one has to admire the equal-opportunities ethos of those who employ interior decorators who must surely be legally blind.
But the main pleasure I get is imagining what I'd do to the homes were I to be able to afford to buy them and then remodel with money-no-object budgets. Short of a lottery win or the discovery of a previously unknown and recently deceased billionaire relation, these fantasies are unlikely to come true, but I enjoy them. Still, it's embarrassing, so I'd be grateful if you keep my little secret strictly between the two of us.
Read the full article »