4 affordable US cities with great dining
By Justin Boyle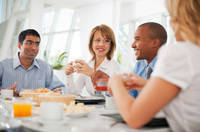 If you're anything like me, your love of good food and residential elbow room tends to find itself at odds with your need for reasonably priced goods and services. Fortunately for people like us, though, there exist U.S. cities where it's still possible to enjoy a lively and well-fed existence in a comfortable living space while keeping your savings account intact.
Here are four of the best places to do it in 2014, in alphabetical order.
1. Albuquerque, New Mexico
The attraction here might not be immediately obvious, particularly after the city's starring turn as a den of vice and viciousness in "Breaking Bad," but you'll be cheered to know that the real Albuquerque is much friendlier than it seems on TV. This desert metropolis is home to some world-class spas and restaurants (and casino resorts, if that's how you party), and it's growing in prominence as a destination for fine food and libations.
Writers for both Women's Health magazine and the venerated Zagat Survey have listed Albuquerque among their top food cities for 2014. Such cuisine and recreation might threaten dry up your disposable income in most places, but New Mexico ranks among the 10 most affordable states in the U.S. in the mid-2014 cost-of-living index (COLI) released by the Council for Community & Economic Research.
2. Boise, Idaho
The Idaho capital could be a real sleeper hit for lovers of food and frugality, particularly those whose physical constitution can handle the freezing winter temperatures. Idaho is among the most affordable states on the COLI cited above -- the third most affordable, to be exact -- thanks in part to its relatively low housing and utility costs.
Between the wineries of the nearby Snake River Valley, coffee roasted daily down the road in Meridian and an array of Basque cuisine and culture that's unmatched this side of the Iberian Peninsula, Boise offers residents an eclectic array of flavors at reasonable prices. Even more options are likely on the way too -- in 2012, accounting giant KPMG listed Boise as the least expensive U.S. city for doing business.
3. Buffalo, New York
It might require an even stronger winter wardrobe than Boise, but there's a lot more to Buffalo than the cold weather and monumental architecture of the 20th-century Great Lakes industrial period. This upstate New York municipality has been showing up on national lists all year. CNBC called Buffalo its No. 2 relocation destination, and it topped the 2014 Forbes list of most affordable cities.
Regional cuisine is a touch esoteric but still accessible -- you might not have heard of beef on weck, loganberry drink or sponge candy, but once you taste them you'll be glad you have. On top of that, the beer-brewing scene is strong, the coffee is roasted locally and the housing market is often touted as one of the most affordable in the nation.
4. Tulsa, Oklahoma
This off-the-beaten-path college town on the Arkansas River was named the most affordable city in the U.S by Apartment Guide in 2013, and the 2014 COLI places the state at No. 4 among the most affordable. The median home price was as low as $118k in early 2014, according to Zillow, which is just about as young-single-homebuyer-friendly as it gets in mid-sized American cities.
Forbes ranked Tulsa among its top five most livable cities a few years ago, and it's easy to see why. A strong local economy, relatively low energy costs, eclectic restaurant scene and abundant fresh vegetables from numerous farmers' markets make it one of the best cities to live and eat in the lower Midwest.
Ready to move?
If pleasant yet affordable sensory experiences are your thing, take a closer look at what these under-the-radar destinations have to offer. Remember, if you do choose to relocate, we've got some advice on how to prepare for a career change that works just as well for other lifestyle shakeups (like a cross-country move).
Or, if you're not ready to commit to uprooting your life for the promise of good, affordable food, why not visit? Whip out your airline credit card in an off-peak season and find one of those sweet deals on airfare that can make travel all the more fun.
More from MoneyBlueBook.com:
The only savings strategies you really need
Novel ways to teach kids about saving money