Published 1/29/13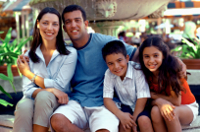 By Jennifer Goforth Gregory
Instead of complaining about the overcast skies and bitter temperatures, I have spent the last week redeeming frequent flier miles and hotel points to plan our family's summer vacation to Hawaii.
While it's satisfying to harvest the perks for our past credit card spending, the best part may be knowing that this year's reward points may help finance our next trip. With a little research and legwork, credit cards can help you get more for your vacation dollar -- especially if you know a few tricks.
Here are four ways to use your credit cards to save money on your getaways.
1. Look for partnership perks

When we were looking for a rental car, my husband checked online and found that one of our credit cards was offering a discount on car rentals from a certain company.
Read the full article »