Published 5/24/13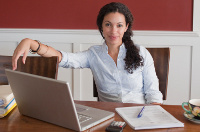 By Holly Johnson
We've all been there. Your dryer breaks down. Your car needs new brakes. You finally have to replace your leaky roof. These are just a few of the common costs that can appear out of nowhere to drain your wallet. So what are you supposed to do when these unwelcome surprises occur?
You can't predict the future and there's no way to safeguard yourself against the many external factors that cause emergencies. However, there is one fool-proof way to prepare for a lifetime of unexpected expenses: start an emergency fund.
We've talked recently about what an emergency fund is and why it's important to have one. But if you haven't done it before, creating an emergency fund can seem like a challenging endeavor. Try using these five tips to get started.
1. Identify regular saving opportunities
In order to free up cash to divert to your emergency fund, you may need to cut some of your expenses (assuming you can't find a new way to make extra money).
Read the full article »