Published 9/20/13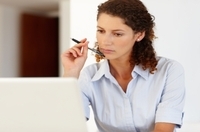 By Holly Johnson
When I was 18, I married my high school sweetheart and moved 800 miles away from home. Shortly after that, I realized that I had made a terrible mistake. Fortunately, since we didn't have much, it was fairly easy to divide our assets and move on with our lives.
Still, I did learn a lot from the experience, and I managed to escape the situation without any financial impact or damage to my flawless credit report. How did I do it? For one thing, I hired an attorney who knew exactly what I needed to do and when. But I also picked up some other helpful tips along the way.
If you're in a marriage that isn't working out, you're probably wondering what steps you need to take to protect yourself financially. After all, if your marriage is like mine was, your finances have been intermingling for quite some time. You may have joint checking and savings accounts, joint credit cards, and, unfortunately, joint debts.
So, how should you separate your finances when you're getting a divorce? Consider starting with these five simple steps.
1. Educate yourself
Often, one spouse takes the lead in the family's financial matters. If that spouse isn't you, you'll need to educate yourself on your family's financial situation.
Read the full article »