Published 8/29/14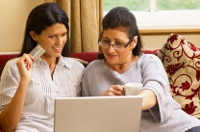 By Peter Andrew
If your credit score's less than perfect, this could be the most cheerful thing you're going to read all day. That's because FICO, the company whose scoring systems are used in 90 percent of all lending decisions, and two of the three major credit bureaus are making changes that might give your score a boost -- without you having to lift a finger.
In other words, one morning soon, you could wake up with a significantly better credit score, simply because of the way these scores are tallied.
FICO Score 9: the best sequel ever?
In August, FICO announced that it was launching a new version of its credit scoring system. And FICO Score 9 includes some big changes that could save you money the next time you borrow.
The first affects those who have medical collections on their reports. Up until now, these have had the same negative impact on scores as all other debts. But they're set to be counted differently. And the company estimates that the median impact on its 300 to 850 scale for those who have medical collections as the only major negative references on their reports should be a score boost of 25 points.
Others who might benefit include those with "thin files."
Read the full article »