Published 10/31/14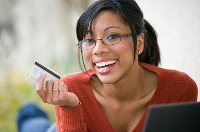 By Peter Andrew
President Obama and I are like two peas in a pod. We both have quite a lot of grey hair. Er ... we both live in houses with street addresses that begin with a "1." And, um, we've both in the past had our credit cards wrongly declined. You see? POTUS and I are like brothers from different mothers.
Presidential plastic
Unexpectedly, given his multi-million dollar personal fortune, Mr. Obama's plastic was refused more recently than mine. He was in New York in September, attending the United Nations General Assembly, when he took the First Lady out to dinner. When the check arrived, his card issuer declined the payment.
Presumably after a short conference around the restaurant's payment terminal ("You tell him." "No, YOU tell him." "No way."), some poor sap was sent to inform the President of the United States that he was using dodgy plastic.
Read the full article »