Southwest Airlines' updated rewards card can help you travel
By Jim Sloan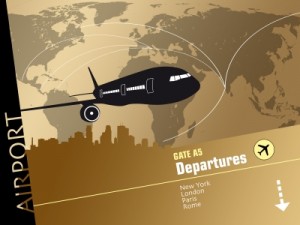 Southwest Airlines and Chase Card Services are raising the bar in the increasingly crowded field of airline rewards cards with the March 1 launch of the Southwest Airlines Rapid Rewards Credit Card.
The latest incarnation of the popular carrier's credit cards switches the currency of rewards from credits and reward dollars to points, and expands the opportunities travelers have for cashing in those points.
Spending your credit card points
In addition to redeeming points for free flights to any of Southwest's 69 destinations in 35 states, card members will also be able to redeem points for international flights on more than 50 airlines flying to more than 800 destinations. You can also spend your points on rooms in more than 70,000 hotels worldwide, rental cars, cruises and gift cards at more than 45 retailers.
You can earn points by using your Southwest card to buy everyday stuff, such as dinner at participating restaurants. You earn the most points (2 per $1) when you buy Southwest tickets or patronize one of their partners in the hospitality and car rental fields, but you can also earn a point for every dollar you spend on other purchases.
Unlike previous Southwest cards, this one has no blackout dates, so every seat that's available for purchase with cash is also available for purchase with your points. Your points won't expire--provided you have "at least one qualifying earning activity every 24 months"--and you a free roundtrip flight after your first purchase.
Grandfathering in the old-style card
Southwest has rolled out a sophisticated Internet advertising campaign designed to explain this new economy and to reassure its customers that their previous credits are still good. If you were part-way to earning a free flight with credits, you can convert your newly earned points into credits and still get the ticket. One credit will equal 1,200 points.
Southwest rewards programs have always kept things simple, and this new system continues the tradition.
For instance, the points you earn aren't based on the miles you travel but the price of your ticket. So if you buy, say, a higher-priced "business select" ticket, you earn more points. The rate of points you're earning goes up with the rate of the ticket you're purchasing. If you buy a cheap, "Wanna Get Away" ticket, you earn 6 points for every dollar you spend. That points-per-dollar rate climbs to 10 points for an "Anytime" ticket and 12 points for a "business select" ticket.
Cashing in your points works the same way. Business select seats cost 26,400 points while $100 Wanna Get Away tickets will cost you 6,000 points.
Other features and ways to earn points
If you stay in partner hotels, rent partner cars, eat in partner restaurants or shop with partner retailers, you earn points. You earn 600 points for purchases of $34.95 to $99.99 and 1,200 points for purchases of $100 or more.
Here are a few other important things to know about the Southwest Airlines Rapid Rewards Credit Card:
Existing cardholders won't see an increase in their annual fee.
If you're an existing member of the Rapid Rewards program, you won't have to re-enroll. You keep the same member number and login credentials.
If you are an A-List member, you retain your status.
Any Award or Companion travel booked prior to the conversion on March 1 won't be affected.
Nonrevenue tickets, such as a reward or companion pass ticket, are not eligible for points. Charter flights, group travel, trade-outs and similar types of travel also won't qualify.
Southwest established its first customer loyalty program in 1987 and unveiled the Rapid Rewards program in 1996. It's hotel partners include Best Western, Choice, Hilton, Hyatt, InterContinental, La Quinta, Marriott, Starwood and Wyndham, as well as The Venetian and The Palazzo in Las Vegas.
Jim Sloan is a free-lance business writer and a higher-education communications specialist. He has worked as a business editor and writer for various newspapers and magazines. He is the author of two books, and his stories have been selected for a number of anthologies. He has a degree in journalism and environmental science from the University of Maine.