Published 7/29/14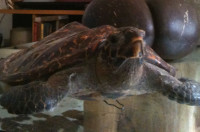 By Peter Andrew
The last time I wrote about investing in real estate, I told you I was building up the courage to buy a nearby house to rent out to vacationers. Well, guess what? I didn't. I didn't buy it because I didn't build up the courage.
Every time I tried to picture happy families returning year after year to joyfully hand me a significant proportion of their disposable incomes, the only mental images I could actually conjure were of unpaid bills, foreclosure notices and someone changing the locks on my vacation home.
This glass-half-smashed-into-a-million-pieces mentality may well be the reason I'm not rich. You have to speculate to accumulate, and all investments involve some sort of risk. Turns out, I'm risk-averse, so the tiny puddle of money that might have been the down payment on my vacation rental remains in an online savings account.
Recognize your weaknesses
Actually, it may be less a question of risk-aversion than realism. In the late 1990s, my parents came to visit me in London where I was then living. We went to Columbia Road market one Sunday morning, which combined flowers and plants with exotic foods and antiques.
My mom and dad strolled with me down the center of the road as my partner raced around the stalls, buying armfuls of cut flowers, a triumph of 19th-century taxidermy in the form of a turtle (see the photo on the right), miscellaneous bric-a-brac, and quantities of obscure Asian foodstuffs. Within 30 minutes, the bill was well over $350.
Read the full article »