Opening a new bank account? Ask these 5 questions
By Holly Johnson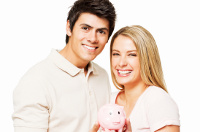 A few months ago, I did something that I hadn't done in almost 15 years: I opened a new checking account.
It was a slightly scary thing to do, mainly because I had gotten so comfortable with my old account and how it worked. On the other hand, it was definitely time for a change. Because we moved, our old bank was no longer in a convenient location for us. Even worse, our "new" local branch had severely limited hours to the point where it seemed like they were never open. I hated the thought of filling out a bunch of paperwork and closing our old account, but I knew it was for the best.
When it came to opening a new account, I felt like quite the novice. However, after doing an adequate amount of research and exploring my options, I quickly found my footing. But that was only after I compiled a list of questions I needed to answer before committing to opening a new account with a specific bank. Here are the five questions I thought were most important to answer, and why.
1. Will my new bank be convenient?
Modern banking is all about convenience, and my personal banking needs are a reflection of that. When it came to choosing a new bank to do business with, I needed to know that my new banking relationship would be a convenient one. In order to rate each bank, I needed an answer to each of these questions:
Does this bank have several convenient locations?
How many ATMs are nearby?
Do they offer free checking?
Do they offer an option to pay bills online?
I also considered online banks which, in many cases, do not have a physical location. In order for that option to work, I needed to know that I could order checks, pay bills and get access to my money in a fast and easy manner.
2. What's my new bank's stance on fees?
In addition to convenience, I was also in search of a checking account with few fees, if any. For example, I needed to know if there were any fees associated with using an ATM or debit card with the account. I also wanted to know of any fees that might be associated with the new checking account, such as ordering new checks.
No one ever plans to bounce a check or overdraw their account, but mistakes do happen. For that reason, I also needed to know what the repercussions might be if I, for any reason, made a mistake of this sort.
3. Can I get any exemptions from these fees?
Once I determined what fees might apply to my new account, I needed to see how I could avoid them. For example, many checking accounts require a minimum balance in order to avoid being charged an account maintenance fee. Others require at least one direct deposit into the account each month in order to qualify for a free or low-cost checking account.
These factors, and others, make a difference when it comes to choosing a checking account that makes sense, both in convenience and in financial terms.
4. Will my money be safe?
The Federal Deposit Insurance Corporation (FDIC) offers certain protections to depositors who store their money in an FDIC-insured bank. According to FDIC.gov, the standard insurance amount is "$250,000 per depositor, per insured bank, for each account ownership category." I wanted the assurance that my money would be protected in the unlikely event that my bank was unable to cover the funds I had on deposit.
Not only that, but I wanted to know if I would be liable for any fraudulent transactions on my account. For example, if my checks were lost or stolen, or if my debit or ATM account went missing, would I be required to pony up for charges I did not make?
5. Are there surprises in the fine print?
We've all heard the saying, "the devil is in the details," and it's especially true when it comes to opening a new checking or savings account. It was important for me to read and understand the fine print in order to get a handle on what I was really signing up for. When it comes to banking, surprises can be costly.
Reading the fine print is especially important when signing a contract or entering into a financial agreement with a bank or another party. And while it may be a pain, it is truly the only way to know what you're agreeing to.
I ultimately chose to go with a bank that has several physical locations nearby and a robust online presence. That way I can use a branch if needed, but also track my online savings account and checking account when I'm on-the-go. My new account is also free, provided I keep a balance of $1,500 in my account at all times.
Even though I came away from this experience with a new account I'm happy with, I hope I don't need to repeat these steps for a long time. There are a plethora of options when it comes to opening a new checking or savings account todat, and the process can be rather overwhelming.
In addition to that, I also learned that all checking and saving accounts are not created equal. Some deals are far better than others, as some banks actually have very little to offer. That's why it's important to ask the right questions and know what you're getting into ahead of time.