Financial Scams: why they work and how to beat them
By Kelly Richardson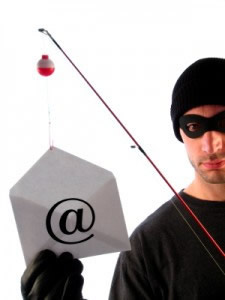 The topic of financial scams is one I'll never grow tired of researching or reporting, because I was a victim. A little over two years ago I went through one of the darkest financial chapters of my life--and it all started with a seemingly innocent email. Here's what happened.
I bank with one of the majors. It's not important which bank I use because the dangers are present with even the best online banks. Because I do most of my banking online, I'm used to seeing frequent emails from this bank. And the email in question was no different. It looked perfect. The bank's logo in the top right corner, legalese in fine print at the bottom--everything I, and you, would expect in an email from the bank.
And after clicking on the hyperlink requesting a verification of my account information, the damage had been done.
Why we fall victim to financial scams
While no one really knows precisely why we're lured by the empty promises and cardboard facades of financial scams, recent research has pointed to an entire range of physiological reasoning behind our actions. Research by the University of Exeter revealed these fascinating findings:
Previous victims of a scam are more likely to show interest in responding again
Recognizing and understanding the subject of a scam has shown to actually increase the risk of 'over-confidence'
Victims aren't necessarily poor-decision makers but might be easily persuaded and less able to control their emotions
Victims generally avoid discussing their falling prey to financial scams with family or friends
Since many fall victim to such scams, it's prudent to ask: Just how prevalent are financial scams?
Why even the best online banks are at risk
Financial scams are running rampant on the World Wide Web, at ATMs and even through the United States Postal Service. According to Consumer Fraud Reporting's Internet Fraud, Scam and Crime Statistics for 2009, the Internet Crime Complaint Center website received 275,284 complaint submissions from Jan. 1, 2008 through Dec. 31, 2008. That's a 33.1 percent increase over 2007. And, as you might expect, crimes continue to rise in proportion to the amount of Internet activity from year to year.
Based on compiled research of complaint reports, the Consumer Fraud Reporting website reveals these alarming statistics outlining financial scam type, percentage of reported loss and average median dollar lost per complaint, respectively:
Check Fraud--7.8 percent - $3,000
Confidence Fraud--14.4 percent - $2,000
Nigerian Letter Fraud--5.2 percent - $1,650
Computer Fraud--3.8 percent - $1,000
Non-delivery (merchandise and payment)--28.6 percent - $800
Auction Fraud - 16.3 percent--$610
Credit/Debit Card Fraud--4.7 percent - $223
What you can do to protect yourself and your money
You don't have to be a victim. You just have to care enough to educate yourself about how to avoid financial scams and then follow that guidance. President Obama's Financial Fraud Enforcement Task Force offers specific steps you can take to secure yourself and your finances through the organizations website, StopFraud.gov.
Some recommendations from the site include:
Health/Medicare Fraud. Learn about the common gimmicks that fraudulent marketers use to gain your trust
Identity Theft. Register your credit cards and monitor your credit reports
Internet Fraud. Use a robust anti-virus program on your home computer
Mortgage, Loan, Lending and Related Fraud. Work with only certified and reputable financiers
Securities and Commodities Fraud. Review appropriate investing literature before you trade through an online brokerage
Unwanted Marketing Calls. Join the Do Not Call registry.
And finally, resist the urge to ignore these safety tips, or dismiss them as an unnecessary burden. These simple steps can keep you from suffering a crippling financial disaster at the hands of scammers.
Kelly C. Richardson, EdS is a freelance writer, marcom consultant and digital entrepreneur. He's written content for Fortune 500s Google, Yahoo!, Microsoft and Wells Fargo.