Logging on for love: What's the catch with online dating sites?
By Peter Andrew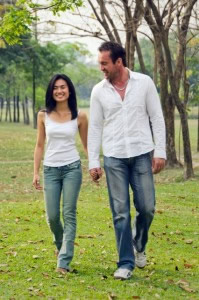 Time was when it was, "In the Spring a young man's fancy lightly turns to thoughts of love." Nowadays, young and old, male and female seem pretty focused on the subject year-round, although Valentine's Day may well trigger many to seek out their perfect partner through an online dating site. But at what cost?
How not to get dates
When I was on the dating scene, in the days before the web, I had a tried and tested five-step process for attracting new partners:
Meet friends at appropriate bar/club
Pick from a distance the person/people I wanted to chat with
Drink bladder-bursting quantities of beer in order to build up Dutch courage
Eventually, stagger across to the object of my desire, and slur--in a haze of foul alcohol fumes--some corny chat-up line
Receive a withering put-down/slap/false phone number
Yes, it was tried and tested, and it almost invariably failed.
How to get dates
If I were in the market for a new lover now, I'd save a fortune in bar tabs, and do my liver an enormous favor. Because I'd almost certainly try online dating. And why not? It sure can work: the last two weddings I've attended have both been the result of Internet encounters through matchmaking websites, and one 2010 study suggested that 17 percent of new marriages over the previous year had come about this way.
But what I would save in beer, I could easily spend on dating site fees. Because online dating can be quite expensive.
Putting a price on love
It's not easy to be completely accurate about how much different sites charge, because rates can vary, promotions may come and go, and optional add-on services could add to basic costs. However, last year, ConsumerSearch estimated likely charges for some of the biggest players:
True.com--$50 a month
eHarmony--$50 a month
Match.com--$35 a month
SpeedDate.com--$30 a month
Zoosk.com--$25 a month
The problem with these numbers is that they're not really comparing like with like. True.com, for example, may is one of the most expensive sites listed here, but it carries out background checks on members to make sure they don't have criminal records, and are honest about their marital status.
By many measures, Match.com is the leading paid-for dating web site with more and longer visits by members than others. And it also keeps winning awards. Meanwhile, SpeedDate.com offers something different: series of three-minute webcam/voice/instant messaging encounters. And Zoosk has a huge membership base, largely thanks to its Facebook tie-in.
Going for a big site clearly has its advantages, but the sheer haystack weight of numbers can make finding the needle who is your true love a problem. You do, however, need to avoid going to the other extreme. Internet research company Experian Hitwise found that there are 1,400 significantly active matchmaking websites in the U.S., but another 2,000+ that are "seldom used." Being alone on a lonely hearts site must make you feel really, really lonely.
Free love
Of course, you don't have to pay anything to find dates. PlentyOfFish, for example, is free, and claims not only to be the world's largest dating website, but also that it receives more than twice as many average monthly visits than any other dating site.
But not all free sites are completely trustworthy, and, assuming you don't want your personal details to be sold on to third-party companies, you should probably at least check the organization's privacy policy before you sign up. It could also be revealing to do an Internet search with the site's name plus the word Complaints.
Having said that, don't be put off by general complaints. It's likely that just about every dating site--whether paid-for or free--is going to have plenty of people who've had bad experiences with members lying about their age, interests, attributes, earnings, education, looks, weight and pretty much everything else. C'est la vie, as the French say. You just have to come to terms with the fact that in cyberspace just as in the real world you have to kiss a whole lot of frogs before you find your prince/princess/drag queen/whatever.
Love's labors lost
Good luck with your online dating search. If you don't find what you're looking for, you could always try my five-step process. You're unlikely to end up with the person of your dreams, but at least you'll be too drunk to care.
Happy Valentine's Day.
Peter Andrew has been writing about--and for--business for more than two decades. For the last couple of years, he has found himself increasingly specializing in the U.S. financial sector.