Pay off debt with 0 interest balance transfer credit cards, but read the fine print
By Lisa Tortorello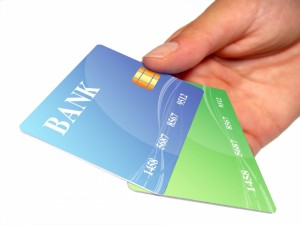 If you are like most people, you probably cringe when it is time to pay the bills. It is a chore almost as dreaded as spending a Saturday afternoon at the post office and dry cleaners. Perhaps the most frustrating and stressful bills to open are those from credit card companies.
If you carry a balance like most of us do, every month you may be battling the disappointment of a cemented balance. This means that you are actively trying to reduce your credit card debt by sending more than the minimum payment each month, and have vowed to no longer use your cards unless absolutely necessary, but your balance does not budge - it seems to be stuck in the cement. In fact, it may even increase due to steep interest rates that outrank the amount you are paying every month.
Several years ago, the credit card bills stuffed in your mailbox were probably accompanied by an equal number of offers to transfer your higher-interest balances to zero interest credit cards with no balance transfer fees. This could have certainly helped you chisel your balances out of their concrete cells.
While those zero percent balance transfers are no longer weighing down your mail carrier's bag like in years past, there are still a few out there that can help you pay down your balances more quickly.
Zero interest credit cards - not zero risk
While there is no doubt that zero percent credit cards can benefit your budget's bottom line in the long run, there are several important things to keep in mind before accepting any balance transfer offers:
Zero interest balance transfers are, in fact, less available then they once were. If one does come your way, take out your magnifying glass and read the fine print - carefully! Pay special attention to the consequences of defaulting on a monthly payment. Missing a due date by just one day has the potential to lead to a dramatic jump in your interest rate, maybe up to a whopping 30 percent. Also, inquire about the interest rate you will be paying following your interest-free period. Unexpected expenses have a way of popping up and, even if you have the best intentions, you may not be able to pay down the entire balance before the zero-percent term expires.
Balance transfer fees are another trap many of us get caught in. A dangerous transfer fee is usually one that calculates the amount you will pay based on a percentage of the amount you are transferring to the new card. Ideally you will want to find zero interest credit card offers that feature no balance-transfer fees. In today's market, this may be tough to find. Your next best bet is to find an offer that caps the transfer fee at a certain dollar figure. For example, three percent of the balance but not more than $400.
Once you have been approved for a zero interest balance transfer, be sure to confirm the credit limit before actually transferring the money from your higher interest card or cards. If the amount you are transferring puts you over the limit, you will face over-the-limit fees that can keep appearing until your balance falls. Even if the transfer will not put you above the approved credit limit, beware of balance transfer fees that, combined with the card balance, have the potential to push you over the limit.
Finding the right zero percent balance transfer options can help you knock out credit card debt, manage large balances and even improve your credit score. Many resources are available to help you find the right card for you, such as MoneyblueBook's list of zero balance transfer credit cards--a great perk considering zero percent offers are no longer crowding mailboxes.
Lisa Tortorello has been a Director of Public Relations and Marketing within a large East Coast health care system for more than 11 years. She has an associate's degree in Liberal Arts and a bachelor's degree in Public Communication.