This holiday season, say no to store credit cards
By Peter Andrew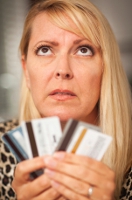 I'm such a nostalgia junkie. Even now I'm an adult (allegedly), I can't help but overlay the hell that is getting through holiday preparations with precious childhood memories. There were happy songs on the radio. There was no pressure to judge gorgeously gaudy decorations through the prism of taste. Church -- something rarely other than boring to a 6-year-old boy -- suddenly became upbeat and fun.
And, when it came to festive-season department stores, the tables were turned: Instead of Mom dragging me for seeming eternities through endless displays of china, linen, silverware, menswear and -- the ultimate humiliation -- womenswear, I got to drag her to the toy department.
"Bliss it was in that dawn to be alive, But to be young was very heaven," Wordsworth might have written about kids and holidays, had he not already used the lines to describe the French Revolution. Come to think of it, in our house, the two could get similarly bloody (at least metaphorically) by Christmas night -- though not for us kids.
Trouble in store
You have to feel sorry for today's 6-year-olds. It must feel as if every time mom comes to pay in a department store they have to settle down to witness a clerk giving her the hard sell on the retailer's plastic. And quite a lot of those moms (and dads and others) are falling for the pitch.
In November, big-three credit bureau Equifax published the latest data on new store cards (also known as "retail-issued, ""private-label" or "store-branded" cards) that were issued between January and July this year, and it turns out those clerks are doing a bang-up job. Some 7.8 million were issued during that time, and the credit limits on those totaled $6.87 billion. Both those numbers are eight-year highs, meaning they're at levels last seen before the credit crunch and recession.
Oh, wait. I've misled you. Those aren't the total numbers of new store card accounts and limits. They're just the ones given to subprime borrowers.
No, really: subprime borrowers! How soon our collective memory fades.
When you add in all the others, you're looking at 21.7 million new retail-issued cards with limits of $41.3 billion -- just in those few months.
Dreadful deals
Maybe that wouldn't matter so much if the borrowing on offer was a good value. But it rarely is. Average annual percentage rates (APRs) on store cards are significantly higher than those on mainstream credit cards. And even some big-name stores can charge 27.99 percent APR or even more. Those aren't penalty rates: That's what you pay for the privilege of having plastic that can be used only in one retailer's outlets.
Of course, not everyone using a store card is going to be bothered by this. Those who zero their balances every month don't pay any interest, and they could care less about APRs. But many others (holders of 195 million store accounts, since you ask) do roll forward balances, and they're paying dearly for the $59.6 billion they together owe, based on Equifax figures for September.
Zero-percent offers
But what about store-branded zero interest credit card offers? Those have to be good value, don't they? They certainly can be, but you have to understand and follow the rules.
Most of them are "deferred-interest" programs. As long as you pay back all that's borrowed as agreed and within the advertised interest-free period, you do get that 0-percent APR. But if you're a minute late making any payment, or if you're a dime short in zeroing your balance by the end date, you stand to be charged all the interest your deal deferred. That usually means that making only minimum payments each month is going to see you eventually hit with a whopping interest charge.
Credit score horrors
Apply for a new store card and your credit score's likely to take a small hit. That's not usually a problem. The same happens when you open any account, and the damage is usually quickly repaired, providing you manage your new credit well. There's also a longer term effect because it reduces the average age of the accounts on your credit report, but that too should usually have a minor impact as long as you don't open too many new ones in a short time.
But, a couple of years ago, Caroline Mayer shared a salutary lesson with readers of the Forbes website. She'd been in a store when an assistant had persuaded her to save $40 on her day's shopping by applying for a retail-issued card. Trouble is, she was going to apply for a home loan soon after, and even a small reduction in a credit score can sometimes have a big effect on the mortgage or refinance rate one's offered.
In such circumstances, a $40 savings can turn out to be a very expensive loss. So it's best to avoid getting a store card or any other new credit in the months leading up to a major borrowing event.
Pick a card … very carefully
Of course, there are other circumstances in which a $40 savings is a $40 savings. And there are times when an interest-free offer is genuinely valuable. So it's impossible to say that store cards are always bad, at least for those who never pay interest.
But might you be better off with a rewards credit card? At least you can spend your cash back wherever you choose instead of being tied to a single retailer. Or with one of those 0 percent credit cards that often offer longer interest-free periods on purchases than most store cards do?
Best of all, of course, is to charge purchases to a credit card (because of the superior consumer protections you get) and then zero its balance on the next statement due date. Believe me, I know that's not possible for many. But, as Wordsworth would almost certainly have written, had plastic been around when he lived, "Bliss it was in that dawn of a new year to be debt-free."
More from MoneyBlueBook.com:
The only savings strategies you really need
Novel ways to teach kids about saving money
Peter Andrew has over 25 years of experience writing about marketing, advertising and management. He regularly covers consumer credit card topics for IndexCreditCards.com and other personal finance publications including Fox Business, TheStreet and MSN Money. He also writes frequently about mortgages and auto loans. Peter has spent extended periods living overseas, in the UK, France and Africa. He lives with his partner of 20+ years, and wastes too much of his time on cryptic crosswords.