Health care sharing ministries: An alternative to Obamacare?
By Holly Johnson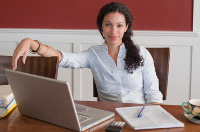 The first open enrollment period for the Patient Protection and Affordable Care Act, commonly known as Obamacare, has come to a close, and a reported 7.1 million new enrollees are currently settling into their new health insurance plans.
Now that open enrollment is over, Americans who chose not to purchase a plan must pay the greater of $95 or 1 percent of their net income in 2014. There are only a handful of ways for individuals to escape this mandate, and they include certain exemptions based on citizenship status, income and hardship. Another little known fact: Families can also avoid the individual mandate by joining a recognized health care sharing ministry.
What is a health care sharing ministry?
Health care sharing ministries work much like their name suggests. Individuals who join a ministry pay a monthly share or pledge that is then distributed to someone in the ministry who is experiencing a health care need. In a way, the services offered are set up much like a co-op, with each individual family paying in a proportionate share of the group's cost of care.
But, unlike regular health insurance, health care sharing ministries do not assume the risk or guarantee payment of any medical bill. And since they operate outside the bounds of traditional health insurance, they aren't required to offer the same services. For example, plans purchased through a health care sharing ministry are allowed to limit the amount paid out per claim, unlike PPACA-approved health insurance plans, which now have no lifetime caps. Health care sharing ministries can also exclude individuals from coverage due to a preexisting condition, or institute a waiting period before members can use their coverage.
The upside of a health care sharing ministry
Because health care sharing ministries generally off fewer consumer protections and assurances, it's natural to wonder why anyone would consider this option in lieu of traditional health insurance. There are a variety of reasons that some might consider a health care sharing ministry to be a better deal than traditional insurance, but the No. 1 factor may be cost.
For example, a family who joins Christian Healthcare Ministries can get what it calls "bronze" coverage for as little as $45 for each family member per month, according to its website. Bronze coverage, which is the lowest tier offered by this particular ministry, would then pick up the tab for any bills that surpass $5,000 per incident (excluding most maternity costs). Likewise, CHM's "silver" coverage would be on the hook for bills that surpass $1,000 per incident -- in exchange for $85 per person, per month.
These unique coverage options, while not as inclusive as those offered through the Affordable Care Act, are dramatically less expensive than the alternative. In fact, since the average individual ACA-approved health insurance plan currently costs $263 per month, according to eHealth, Inc., most options offered through health care sharing ministries are just a fraction of the cost of traditional insurance. For that reason, some have chosen health care sharing ministries as a way to avoid higher monthly premiums.
The faith and charity aspects
In addition to the potential financial benefits of joining a health care sharing ministry, many members appreciate that these organizations provide them with an opportunity to help others experiencing a medical need. According to the Alliance of Health Care Sharing Ministries website, the basis of their program is built on an appreciation for mutual aid and the idea of bearing one another's burdens. Its website banner tells visitors that "faith, liberty, and charity are essential to effective health care."
Unlike traditional insurance, these ministries typically require that all members adhere to certain religious beliefs and practices, such as professing a Christian faith and living a lifestyle in line with the traditional values of the church. Three out of the four health care sharing ministries surveyed require regular church attendance in order to become a member of the ministry. The fourth ministry, Liberty Health Share, only requires a pledge to believe in one God or another, and its members to agree to its listed "shared beliefs," which include a belief in freedom from government restraints and oversight and a fundamental commitment to sharing in the medical burdens of others.
For some, the faith-based requirements of health care sharing ministries could be a deal-breaker. But for others, the religious component could make these organizations more attractive, particularly if they already like the idea of sharing their health care costs with a community -- and wouldn't mind paying a smaller monthly premium for doing so.