Free Quicken Online Review and Quicken 2009 Discount Coupon Codes
Published 1/14/09 (Modified 3/22/11)
By MoneyBlueBook
Quicken 2009 Discount Coupons and Promo Codes Listed Below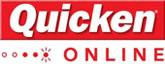 The editors at CNN Money recently examined and reviewed several of the top online personal finance tools - and ultimately decided to award its highest honors to four winners - Mint, Yodlee MoneyCenter, Wesabe, and Quicken Online. In the editorial review, all four personal financial management websites were highly regarded and praised for their innovative money management features that offered Internet consumers an introductory and accessible way to manage their saving, spending, and retirement portfolio online, all for free.
However, of the four highly regarded and mentioned personal finance sites, Quicken Online perhaps has the most impressive historical lineage, having been created and spun off as an online web app by Intuit, the same financial software maker that brought us the popular desktop money management tool Quicken, and ubiquitous tax preparation program Turbo Tax. While Quicken Online has been around for some time, it wasn't until recently that the financial tool was finally available online for free (previously, Quicken Online cost $2.99 per month after the end of the initial free trial period). While Intuit's bread and butter has historically been its comprehensive suite of Quicken desktop programs, it's clear the era of Internet based financial web tools is at hand. With the slow demise of print media as well as the end of newspapers, it seems the former stalwart money management tool has been forced to go online to match the emergence of new free competing tools. With the emergence of competing companies offering similar web-based money management tools for free, it's no wonder Quicken Online appears to be signaling a shift away from the paid desktop software model, and towards an ad-driven or subscription based online service.
Why Use Quicken Online's Free Service? Simple - Proven Brand Name And Guarantee Of Future Support and Upgrades


Perhaps one of the top reasons to go with Quicken Online for your money management needs is because of the Quicken brand name and the future anticipated cross compatibility with other Quicken products as well as with other Intuit programs like Turbo Tax. While Quicken Online's current plug and play compatibility with the entire software lineup of Intuit is still rudimentary, it stands to reason that as time goes by, it is a positive feature that will most definitely be offered sometime in the near future.
As interoperability rapidly advances at the speed of the Net, I eagerly anticipate the day I will be able to automatically populate my Intuit Quicken Online account with detailed tax data and deduction information from my Intuit Turbo Tax online account to better assist me with improving my all around financial planning. In fact, while complete cross compatibility among the desktop versions of Quicken and the web based Quicken Online is still being developed, shortcut features are already available for Intuit's online customers via password interoperability. Currently, if you are a Turbo Tax or any other online Intuit product customer, you can bypass the usual Quicken Online sign up process by logging in with your existing TurboTax ID and password for immediate access. The benefit of using Intuit's online products is the convenient ability to access all its services with just one account identity. Certainly when it comes to having to create new passwords and login names, the fewer the better.
In the area of troubleshooting and web assistance, Quicken Online's customer support has received high marks and lofty commendations by online commentators such as CNN Money for providing "solid customer support" to its users. As a proven brand leader in the world of personal financial products, the Quicken brand offers consumers such as myself a proven degree of quality, account security, customer service reliability, and reasonable expectation of continued technical support. These days, many new online upstarts seem to come and go, going bust as quickly as they jumped onto the scene, leaving existing customers hanging with a tool that will no longer enjoy future development support. However, it's almost a given that established and historically entrenched companies like Quicken are inevitably going to stay around for the long haul, transitioning their existing and established products onto the new medium (the Internet) rather than have to develop a new unproven product from the ground up.
Quicken Online Can Aggregate and Track All Of Your Bank, Credit Card, and Stock Broker Accounts From One Location
Quicken Online's primary feature is to allow you to track your various online financial accounts without having to manually log into each one to check your balances or transactions. As someone who has probably well over 50 bank checking accounts, high yield savings accounts, credit cards, and multiple online discount brokers, having to go around logging into each account one by one can be quite a nightmarish and arduous task. With a money management and account aggregation tool like Quicken Online, you can track your bank accounts, credit cards, investments, PayPal logins, student loans, and mortgage loans from one place. After inputting all of your various account login and password information into Quicken Online's secure and 128-bit encrypted system, the website will automatically pull and scrape the desired financial data from all of your accounts into one easy to view webpage for you to analyze with the benefit of fancy charts and graphs for budgeting and planning purposes. The data is refreshed and re-pulled every night, providing Quicken customers a continuously updated way to calculate net worth and track their financial progress.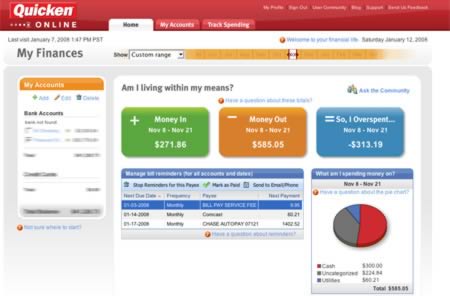 Track and Chart Your Bank and Credit Card Transactions To Help You Budget
By pulling and consolidating all of your spending data from your bank checking and credit card accounts, Quicken Online can help you chart your ongoing expenditures and assist you in managing your money better. Quicken Online allows you to view your account invoices, transaction details, and account balances from one online source with the functionality to create charts and graphs that quickly analyze your spending and basic investing habits. On its main account page, Quicken Online calculates your cash flow and tracks whether you are living within your means on its aptly named webpage - Am I Living Within My Means? Users can also set monthly target budgets using the My Budget tab for categories they want to track and improve on.
While the system takes a little bit of additional manual tweaking to get it perfect, once the Quicken Online system has pulled all relevant financial data from your numerous accounts, it automatically sorts your various expenditures into purchase and expense categories such as groceries, dining, or utilities - complete with computer generated pie charts and graphs for visual inspection and analysis. While the Quicken Online automatic category sorting tool is compatible with over 5,000 financial institutions from banks, brokerages, to credit card issuers, it also offers you the ability to create your own custom tags, and the ability to add or rename your own categories as you see fit. Along with the category customization features, Quicken Online also takes a page from Terminator's Skynet computer (without the whole evil aspect) as it learns and adapts to the category corrections and edits that you make as well as those made by other fellow online users. The automatic learning system is touted by Quicken Online as one that improves with experience and enhances with use over time.
For the personal finance novice or beginner, the entire concept of account aggregation may seem intimidating, but Quicken Online truly simplifies and automates the process for newbies and experts alike. In fact, Quicken Online was probably designed with personal finance beginners in mind as most of the sophisticated and more complex features found in the desktop software are not available in the free online version. While the desktop versions of Quicken are much more comprehensive and effective as all-in-one inclusive money management and investment programs, Quicken Online's more of an entry-level account aggregation tool designed to help people manage their basic bills and live within their means via daily account snapshots without having to be too versed in personal finance lingo.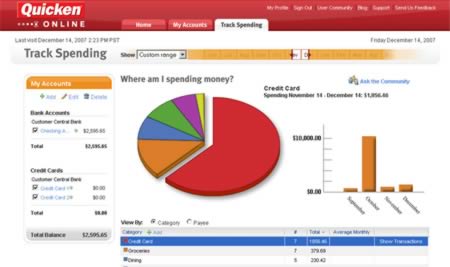 Useful Quicken Online Mobile Features, Bill Reminders, and Payment Alerts
As a one-stop account aggregation tool, Quicken Online also provides its users the ability set up online email reminders and wireless telephone text message alerts for billing due dates and other financial reminders. Those who are always on the go and addicted to the crack berries (Blackberry or hand held personal data phone devices) will greatly benefit from the free Quicken Beam service, which allows users to view their Quicken Online account information on their wireless cellphones, Apple iPhones, or other PDA devices. Simply access your Quicken Online account summary on your smartphone or handheld device by visiting - m.quicken.com or texting BAL to 636363 to instantly view your combined online balances and transactions.
Differences Between Free Quicken Online (Basic) Vs. Paid Desktop Quicken (More Features)

While Quicken Online is a great foray into the online personal money management realm by software maker Intuit, it's currently lacking most of the more comprehensive accounting, investing, and tax planning tools that the desktop versions of Quicken provide. As it currently stands, free Quicken Online's more for mainstream run-of-the-mill consumers who want a basic budgeting and account snapshot gadget with little need for more complex financial planning tools. Quicken Online's best suited for your average paycheck to paycheck consumer who wants to learn how to improve his or her finances without having to dive too deeply into financial geek speak.
Intuit's lineup of paid Quicken programs for desktop users on the other hand is well suited for those who desire the complex financial tools needed to help budget their expenditures and track their investments with actual tax planning analysis. Those running their own small businesses from home or those wanting to handle more complex accounting tasks like rental property income tracking will definitely find the paid desktop versions of Quicken to be much more substantive and appropriate for their needs than the user friendly but feature-lacking Quicken Online version. As Quicken Online does not support detailed investment tracking nor does it currently export financial data to Quicken desktop versions or integrate with TurboTax, users accustomed to the comprehensiveness of Quicken desktop may find Quicken Online to be somewhat insufficient to meet their growing needs. Of course, as Quicken Online continues to compete with Mint, Wesabe, and Yodlee, and as mainstream customers become more and more comfortable with online banking and used to the idea of sharing confidential financial information over the Internet, it's inevitable that the premium Quicken features will be added to the online version sometime in the future, perhaps in paid subscription form.
For small business owners and those with a significant number of investments, Quicken Online is not a complete personal finance solution at the present time - at least not yet. Currently it doesn't offer any sort of substantive investment tracking, and its reporting functions are much more limited and rudimentary than what existing Quicken Deluxe or Quicken Premier users may be accustomed to. While it remains what the future holds for the comprehensive Quicken desktop programs, at the present time the paid desktop Quicken programs currently provide the best fit for consumers desiring the most out of their financial planning tools and the best value for small business owners who want a complete business accounting platform.
Quicken 2009 Desktop Promotional Coupon Codes For $20 Off Savings

While compared to the previous Quicken 2008 version, there are few substantive changes, Quicken 2009 has slightly re-tooled its program navigational features, improved its bill payment reminders, and improved some of its help functions.
As always, the Quicken desktop version comes in different packages with the free Quicken Online version being the most basic and bare bones. The Quicken 2009 Deluxe version provides excellent financial tracking features with goal setting, investment tracking, and Turbo Tax data sharing. The 2009 Quicken Premier version is very popular and provides all of the features of Quicken Deluxe but with many more tools and charting features for analyzing your investments in greater detail. The Quicken Home Business and Quicken Rental Property Manager programs obviously appeal more to those engaged in those types of enterprises.
Those that want to buy or upgrade to Quicken 2009 desktop at the follow promotional rates may wish to consider using the following limited time Quicken coupon codes: