Frugal ways to be sexy on Valentine's Day
By Jim Sloan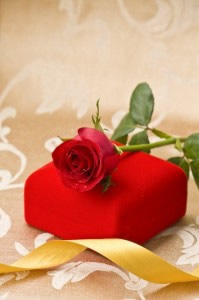 Here's my annual Valentine's Day dilemma: If I go with the traditional gifts - chocolates and roses or dinner at a fancy restaurant - will my wife think I'm unimaginative? She loves roses and fine chocolate, but won't she be somewhat offended that I didn't put more thought into it?
And then there's the expense: Roses aren't cheap, and my wife, who's watching our household dollar pretty closely these days, may not be able to enjoy their beauty knowing what they cost.
So this year my plan is to do things a little differently. Not only am I going easy on my savings account, but I'm also going to blow her away with how thoughtful and creative I am.
That said, here are some of the options I'm weighing:
Miniature potted roses: Long-stem roses are pretty ostentatious, but these quarter-sized flowers will not only last longer and continue blooming well past Valentine's Day, but my wife will be able to plant them in her garden this spring and think of me every time she walks past them.
A picture of the two of us: I've got a few images from a summer camping trip we took, so I'm thinking about having one of those printed in a large 11-by-17 format that I can slip into an inexpensive prebuilt frame. I noticed at Christmas time that the craft shops were putting a lot of their frames on sale, so I'll probably grab one of those.
A homemade card: This might the biggest bang for my buck. It will take some time and some thought, but my time - and more than a few of my thoughts - are pretty cheap. I might use Photoshop to paste together images from the past year, or I may make a collage from past snapshots. Either way, the surprise and delight of seeing a homemade card will warm my sweetie's heart.
Homemade coupon books: Use your imagination. What does your honey desire, yet might be too embarrassed to come right out and ask for? Well, if you give them a coupon for that thing, they won't have to ask for it. Get it? I can't spell it out for you but you can certainly spell it out for them.
A home-cooked meal: The jury is still out on this one. Some people think cooking dinner for your baby on Valentine's Day reeks of cheapness. What she'd prefer is dinner at a nice restaurant. But what if the meal you prepared was really, really nice? Like shrimp cocktail, a nice wine, prime rib or poached salmon and berries and fresh cream for dessert? Won't your baby just melt in your arms over your thoughtfulness and hard work?
A series of small surprises: Decorate a bunch of empty match boxes or old jewelry boxes with leftover wrapping paper and stick little treats in them. Then hide the boxes around the house in places you know he or she will find them in the days leading up to Valentine's Day. Mix it up - an exotic chocolate one day, an earring then next, the second earring the following day and so on - and make the final gift something a little more special - such as a necklace that matches the earrings or a gift card for dinner that night.
Let us know what you are doing for Valentine's Day this year, and remember that keeping your sweetie and your savings account happy can both be priorities this Valentine's Day.
Jim Sloan is a freelance writer in Reno, Nev.
Jim Sloan is a free-lance business writer and a higher-education communications specialist. He has worked as a business editor and writer for various newspapers and magazines. He is the author of two books, and his stories have been selected for a number of anthologies. He has a degree in journalism and environmental science from the University of Maine.