Visit The Amusement Park During Off Peak Times And Use A Discount Code To Get Your Money's Worth
Published 2/26/08 (Modified 3/9/11)
By MoneyBlueBook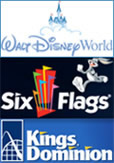 I love roller coasters and visiting amusement parks. Luckily there are several great amusement and water parks near where I live in the Washington D.C. area including Six Flags, Busch Gardens, and King's Dominion. All of the theme parks have wonderful attractions and rides for both children and adults, and feature a wide variety of entertainment performances. Most of the theme parks take at least an entire day to enjoy so do plan ahead. But if you truly want to have a memorable experience, I recommend saving up and planning a vacation trip to the prime destination of them all - Walt Disney World in Orlando, Florida. The last time I went, I was just a little boy but since then the park has made substantial strides with the addition of multiple expansion parks and new rides. Disney World is very expensive (expect to pay $500-$1000 per person) and will require at least 3-4 days to fully enjoy, so it's best left for those rare and special vacation trips.
No Lines And Half Priced Tickets - My Happy Experience At King's Dominion
It doesn't matter which amusement park you visit - if you want to fully maximize your time and money spent, I highly advise you to visit during off-peak season, such as the very start of the park season. Amusement park opening dates and hours vary and are dependent on the climate of where the premises is located. Parks located in sunny Los Angeles such as Six Flags Magic Mountain, or located in Florida such as Walt Disney World, enjoy year round park hours due to having annually mild temperatures. Unfortunately in my case, parks located in the Maryland, Virginia, and D.C. area are not year round due to the well defined four seasons that we have here. Theme parks here are open from very late-March to September, and shut down during the off season winter months due to cold weather.
Last year I went to King's Dominion in Virginia on a Saturday right in early April when the park season was just starting. It was an incredible visit because there were no crowds or lines to slow us down. Ordinarily, each roller coaster would have required waiting through 30-45 minutes of crowded lines. But because it was just a few early weeks into the season, there were no crowds to be seen. The park was eerily empty, but I loved it because we basically had the entire park to ourselves. We were able to dart from one ride to another in rapid fashion with only a quick 5-10 minute wait time for each. Some didn't even have lines and we easily walked up to the front, which was absolutely fantastic. The only downside was that not all parts of the park were fully open and operational. While most coasters were staffed, because the weather was still a bit breezy, the adjacent water theme park was closed and not scheduled to open until later in the spring season when it was warmer. But the extremely short lines and the mild 70 degree weather made up for any drawbacks.
As for tickets, at King's Dominion and most amusement parks, prices are relatively high at around $45 per adult, but there are a wealth of amusement park discount codes available everywhere on the internet. With a quick search online, I was able to secure a discount code from some random bank's public website to enter in as my own. The promotion code was for employees of the bank, but I was still able to use it to obtain a 50% discount.
Here are some tips to save money and make your amusement park experience more enjoyable:
1) Visit During Off Peak Times - (Spring, Fall, and Middle Of the Week) - The off peak calendar for individual parks will vary depending on the location's climate. But in general, to duck the crowds, it's best to avoid the major federal holidays especially the ones during warmer months. The summer will always be the busiest time with the greatest number of park visitors compared to spring, fall, and winter. Saturdays tend to be the busiest, with Tuesdays and Wednesday the slowest. The best time to go is generally before mid April and anytime after Labor Day in September. If you can go during off season months, you'll find that even Saturdays are sparsely attended.
2) Hit the Most Popular Rides During Opening and Closing Hours - If you insist on going when there are crowds, then you may want to reserve visiting the most popular rides right when the park opens or near closing time. During those hours there are less crowds as people either haven't yet arrived or have tired for the evening.
3) Buy Tickets Online, And Take Advantage Of Group Discounts and Coupon Codes - Always order your tickets ahead of time online through the park's website to avoid the long ticket lines. You should never pay full price for expensive amusement park entrance fees. There are many discount codes that can be quickly found on the internet, as well as through employers, fast food restaurants, and hotels. Many theme parks also offer discount savings for AAA auto club members and for children and seniors. If you live very close, many amusement parks also offer steep discounts to local residents.
4) Don't Bring Along Too Many Belongings - You can usually rent a locker at the amusement park, but if you plan to ride on roller coasters, you don't want to have to keep putting all of your bags, purses, and backpacks into public cabinets everytime you get onto a ride. There is always the chance your possessions may be stolen by some opportunistic person. Remember to put your valuables and other belongings in your car's trunk or in a locker, rather than exposing them on your car seat for all to see.
5) Remember to Grab A Park Map And Plot Your Plan - Maps are always available at the park entrance or at guide desks. Unless you plan on wandering around lost and wasting valuable time, it's best to plot your path as you walk around. Since I'm a huge roller coaster buff, I tend to plot my trip around the most popular coaster rides.